Technological system «NGZS» 3x10, 2xNSV 32, connected to 2 Fuel Dispensers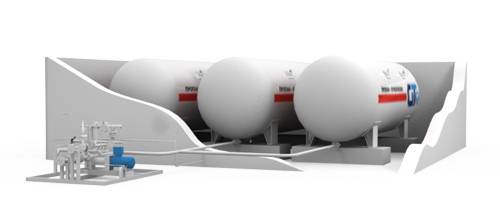 Call to order
TS NGZS – technological system with two ground-level storage tanks of 10ì3 capacity (one of them is emergency tank) with the access to the single-column fuel gas dispenser.
TS NGZS is intended for easy installation of the automobile gas filling stations (AGZS) outside the territory of townships and enterprises.
TS NGZS consists of the following complete prefabricated blocks: fuel storage unit, emergency tank, technological block (pump unit), fuel gas dispenser (FGD).
TS NGZS is geared up with all the necessary equipment for carrying out technological procedures of the reception, storage and refueling of vehicles (passenger cars and trucks) with liquefied petrol gas (LPG) as per GOST (State Standard) 27578-87and 20448-90.
FGD connecting pipelines are supplied only on Customer's request after the actual pipe-laying method (ground-mounted, underground, the actual length) is coordinated with the engineering design team.
Technical and operational documentation is approved by the Main Department of the State Fire-Fighting Service of the EMERCOM of Russia, TS NGZS manufacturing and application is licensed by the Federal Service of Ecological, Technical and Nuclear Supervision (Rostechnazdor).
Technical Specifications:
Working pressure, MPa, not more than

1,6
Operating temperature,

°Ñ

from -40 to +45

Geometrical capacity of storage tank, m

³
10

Dischargeable capacity of storage tank (when K=0,85),  

m

³
8,5

Maximum pressure in vehicles refueling pipelines, MPa

1,58

Number of FGD, pcs

1

One vehicle gas-tank refueling time, min.

(depending on the tank volume and pump type)

4-8

Weight of the NGZS, kg

6300

Gas weight for one tank, kg

4880

Overall dimensions (without FGD), not more than




Length x width x height (at the outlet pipe), ms

7,65 õ 6,4 õ 4,5

The distance from the pump unit to the FGD, no less than, ms

30

Íàçàä â ðàçäåë